Testimonials
Barbara W: (April 1, 2014)
We are so pleased that we had our bathroom cleaned and sealed. Your company is professional and a pleasure to work with. Thank you and wishing you continued success. Barbara W. Sandy Springs, GA.
Nancy F: (March 20, 2014)
Jeff, just wanted to thank you for getting to this job so quickly. It looks great! Cristian arrived promptly and worked steadily the whole time. Most of all, I appreciate his courteous and respectful demeanor; and by calling me "Miss Nancy" instead of Nancy or even Mrs. Frazier, which was refreshing. Nancy F. Kennesaw, GA.
Mindy P: (March 18, 2014)
Thank you, Francisco and Christian did an excellent job. They were very professional and thorough. Mindy P. Stone Mountain, GA.
Sandra L: (February 16, 2014)
The floors look great and Francisco and Christian were a pleasure to have in the house. Sandra L. Roswell, GA.
Barbara M: (February 16, 2014)
I used Sir Grout to clean my master bathroom tile floor and they did a great job. Santos was kind and courteous and even put on shoe booties when he entered my home! He also let me work with him and tested two different grout colors on my floor to find the perfect match. My floor looks great and I could not be happier! Barbara M. Alpharetta, GA.
Ginny S: (January 5, 2014)
Jeff, I just love the outcome if my floors! They look brand new. The tiles are smoother to walk on and we couldn't be more pleased. Thanks again for such a great job. Ginny S. Buford, GA.
Rick K: (September 12, 2013)
We tried having the floor cleaned by another company but they were unable to get the grout between the 1" tiles clean/white. Sir Grout was able to restore the floor and grout to it's original color. They did a fantastic job! Rick K. Alpharetta, GA
David Crosby: (August 13, 2013)
Thank you Jeff,

We are very pleased with the results and will certainly recommend you and your company to anyone I know in need of your services. Francisco worked very hard and did an outstanding job. Both bathrooms and the tile backsplash in the kitchen look great. David C. Cumming, GA
Jeff S: (August 10, 2013)
Good morning Jeff,

Michael did a great job on the kitchen. Thank you very much. Jeff S. Norcross, GA
Shelly C: (August 10, 2013)
Dear Jeff,

I want to thank you for the wonderful experience I have recently had with your company.

Our master bath shower was in need of of a sprucing up and Michael did a fabulous job. He was timely, courteous and cleaned up after himself. The shower and all the bathroom was transformed as a result of it. There is a feeling of freshness, and somehow I feel cleaner from it. I am also seeing the tile from my other bathrooms in a new light and you will be hearing from me again. Shelly C. Alpharetta, GA
Jeff S: (August 10, 2013)
Good morning Jeff,

Michael did a great job on the kitchen. Thank you very much. Jeff S. Norcross, GA
Amy C: (August 1, 2013)
Jeff,

The floors look beautiful! Truly, they are beyond our expectations!

Thanks again for a fabulous job. Amy C. Cumming, GA
Richard & Sherry Evans: (July 27, 2013)
Jeff,

The results look great. The staff were prompt, courteous and they did good work. Richard E. Alpharetta, GA
Richard Houden: (July 2, 2013)
Dear Joe,

I just wanted to let you know how happy I am with the job that your Company Sir Grout did with my shower.

It looks like it is brand new!

And thanks again for the advise to go with the colored rather then the clear seal, the color made a huge difference.

You were a complete pleasure to deal with throughout the process.

Once again, thanks a million for a job well done! Richard Houden
Natasha: (June 26, 2013)
I hired Sir Grout to recaulk our master bath and powder room along with color sealing the grout and sealing all the tiles. They did a really great job – they kept me engaged every step of the way to let me spot check throughout and really kept me informed throughout the entire process. The floors look amazing and all the grout now matches which is really nice. I appreciate all their work and effort they put into this job as they were at my house for almost 10 hours. Natasha. Roswell, GA
Sandi Edwards: (June 11, 2013)
Hi Jeff,

I wanted to let you know that Michael and Blake did a fantastic job and were a pleasure to have in my home! Please let them know I appreciated their professionalism and expertise!

You have a great group of guys there, thank you again!

Kind regards, Sandi E.
Jamie: (May 12, 2013)
Jeff,

As always it has been a pleasure doing business with you and your company, true professionals. Everything is sparkling !

Your very hard and perfectionist worker Mike did a fantastic job.

Thank you, Jamie R. Smyrna, GA
Eric:
I would like to thank Sir Grout and Jeff Miller for a fantastic job at a quarter of the cost in replacing my bathrooms. Jeff and his team were honest, available, and delivered on the quality that was promised and viewed in all of the videos, brochures and company web site. Furthermore, Jeff was very easy to reach, schedule, and make sure that the crew was professional and thoughtful to our home.

I recommend using Sir Grout prior to starting a long and costly remodel. The work is pure quality! Eric K, Johns Creek, GA
Sheila:
Jeff,

Today your Sir Grout employees arrived promptly at 8:00 AM, ready to redo my bathroom. They were polite and informative and did an outstanding job. I would be happy to recommend your company to all who are in need of repairs to their bathrooms.

Thanks again also for accommodating the time in which I needed this to be done.
Sheila O, Atlanta, GA
Carol:
Jeff,
My husband and I were very pleased with the refinishing of our hardwood floors. Trying the sandless method created much less mess and still got the floor shiny even after 9 years of wear and tear. We were also amazed at how white Sir Grout was able to get our grout in the guest and master bathrooms. All of the Georgia red clay stain is gone. The improvements by Sir Grout should add value to our house sale. The professionalism of the owner, Jeff Miller, cannot be praised enough.
Carol W. Kennesaw, GA
Jamie:
Dear Jeff,
Mike and Rob just finished regrouting and caulking our kitchen back splashes and Master Bathroom floor and shower - the sparkle is unbelievable. We couldn't be more pleased. Your men outdid themselves and the product exceeded our expectations. We will certainly use you again and recommend you to our friends. Thank you. Jamie & John R. Smyrna, GA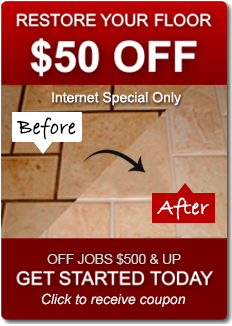 Expires: April 30, 2019